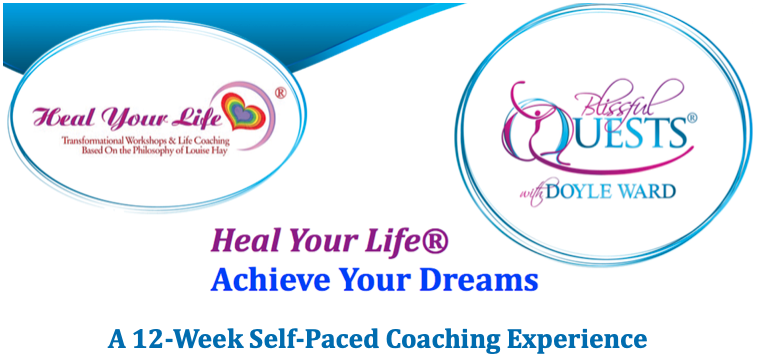 Are You Ready To Achieve Your Dreams And Really Begin To Enjoy Your Life?
Are you struggling with your career, relationships, a lack of focus?  Would you like to learn how to consciously create the life of your dreams, but don't know where to start?
♥ Do you find yourself worrying about the future?
♥ Are you happy with your job or career?
♥ Do you have goals you haven't been able to achieve?
♥ Is your life out of balance?
♥ Do you feel like something is missing in your life?
♥ Are you lacking as much joy as you used to have?
♥ Do you have a sense of your life purpose?
♥ Do you want to create a healthier lifestyle?
This 15 module online coaching program can help you answer all those questions, and more, in a positive way!
What if it only took just 12 Weeks to Change?
Now in this self-guided program you can begin to dissolve barriers that have kept you from what you really desire. You can work this program over a period of 12 weeks (as it was originally designed) OR as fast you want. All modules will be available to you right away!
This package combines online coaching using video, audio, assessments and downloadable worksheets. These tools will enable you to clarify where you are now, where you want to get to, and practical actions you need to take to get you there. I will prompt you with additional questions, tools and suggestions that will give you insight and further impetus to succeed in your goals.
BONUS! Once you get started you'll get complete access to all the content for 1 full year!
The following schedule outlines the sessions offered:
WEEK 1
Program Overview: An introduction to coaching followed by an overview of the package.
About You: A lifestyle assessment that will you give you a starting benchmark.
Affirmations: The Beginning Point of Change: This video will cover what affirmations are and how to use them effectively.
Exploring Beliefs, Using Mirror Work, and Childhood Messages: This session will teach you the foundational skills to positively move forward towards your goal.
WEEK 2
How To Love Yourself: This session teaches the importance of accepting yourself and outlining how to actually "Love Yourself".
WEEK 3
You Deserve the Best!: Deserving affects every part of life. This session helps you move understand and move beyond your beliefs about this vital topic.
WEEK 4
Daily Thoughts and Beliefs: Here we determine what your usual thoughts are and how they help or hinder you in life.
WEEK 5
Your Beliefs: A Deeper Dive: We identify what kinds of beliefs you have that are moving you toward your goals or away from them.
WEEK 6
Visualization & Meditation: This session teaches the importance of meditation and the powerful technique of creating visualizations to support your desires.
WEEK 7
Your Daily Work: Learn to keep on track by identifying and implementing simple ways to keep you focused on the life you want.
WEEK 8
A Prosperous Life: We examine what prosperity really is and what you can do to allow more good into your life.
WEEK 9
Say "Yes" to YOUR Dreams: Here we identify your dreams and what it means to be happy and successful.
WEEK 10
Your New Story: Creating and writing the script for your life based on your new thoughts and beliefs.
WEEK 11
Exploring Your Intuition: We learn what intuition really is and effective methods for accessing it to get the answers we want.
WEEK 12
Congratulations! The Journey Continues…: A final assessment to reflect on the process you have undergone and the positive impact it has had. We also identify next steps and what actions you can use to continue moving forward.
Start Your Best Life Today!
Get started NOW for only $497.00
12 Weeks of Coaching for a Fraction of the cost of traditional coaching sessions.
Heal Your Life ® Achieve Your Dreams is an amazing self-paced program where you can be coached by a Licensed Heal Your Life ® Coach in the philosophies of Louise L. Hay, for a fraction of what it would cost for a single month of traditional coaching sessions.
Also, this is a NO RISK offer because I am offering a 7-day 100% satisfaction guarantee. If after a week you decide this program isn't for you, send an email to: doyle@blissfulquests.com  within 7 days of purchase for a full refund.